Thousands of households living in landslide prone areas in the Mekong Delta province of Dong Thap are worried for the safety of their lives and property, as landslides have broadened further into the mainland along the Tien River.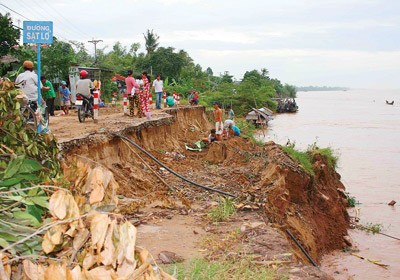 Landslides have become frequent occurrences in Dong Thap Province (Photo: SGGP)
The worst landslide area is in the island commune of Tan Binh in Thanh Binh District, where the entire 4m long tarmac road, the main traffic route in the commune, has become badly eroded with several sections having been swept away.
Dang Van Ben, a resident in the commune, said that in 2011 the Tien River bank stretched to 30m from the road. But after a few landslides, the road has remained mostly cut off and landslides continue to broaden further towards his house and his neighborhood.
In the last few days, floodwaters have surged to levels that have made us restless all night long, keeping us awake and aware of dangers, he said.
Landslides have swept away several houses along the riverside, forcing local residents to move their houses further into the mainland, many times now. Now they seem to have reached a dead end with no further land available to move onto.
Many people also do not have money to buy another property and therefore just set up temporary huts on landslide prone areas to survive with a roof over their heads.
 
The worst landslide occurred in Tan Binh Commune from July to September last year, burying more than 200 houses.
Dao Van Lia, deputy chairman of the People's Committee in Tan Binh Commune, said that the landslide stretched nearly four kilometers, endangering 250 households.
The province has more than 100 landslide prone spots along 17 kilometers of river banks. A total of 5,000 households are in dire need to evacuate, however the province has difficulties in providing capital for resettling people.
The project to build flood-proof residential camps has completed its first phase, relocating almost 37,000 households. 46 camps in the second phase are under construction to relocate more than 8,000 households.
However, the number of households in need of relocation has kept increasing by the thousands every year, making it unaffordable for the province to build enough resettlement houses for residents.
 
Dong Thap Province has now decided to extract VND60 billion (US$2.88 million) to build a 16 hectare resettlement area to accommodate 300 households in Tan Binh Commune.
The province is still short of capital and awaits Government assistance to build four more resettlement areas to move thousands of households.