On September 26, Lam Kinh Historical Relic was recognized as a National Historical Monument on occasion of the 595th anniversary of Lam Son uprising and 580th death anniversary of Le Loi, the leader of the Lam Son uprising.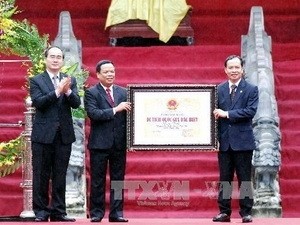 Chairman of Vietnam Fatherland Front Committee cum Deputy Prime Minister Nguyen Thien Nhan (L) grants the certificate recognising the Lam Kinh historical site in Thanh Hoa province as a special national relic (Photo: VNA)
Lam Kinh Historical Relic is located in Xuan Lam Commune of Tho Xuan District in Thanh Hoa Province. The Lam Kinh Historical Relic where Le Loi and many Kings of the later Le Dynasty lie at rest covers about 200ha, including royal tombs and temples.
Within the frameworks of Lam Kinh Festival 2013, the Thanh Hoa Department of Culture, Sports and Tourism has held many attractive activities such as art performances, exhibitions, folk games, film screenings and camps.
In the past, the State has invested more than VND100 billion to reconstruct the historical monument.