Ho Chi Minh City-based charitable organization Tam Viet sent medical workers with assistance from Sai Gon Giai Phong and Hoang Anh Gia Lai Company to an area badly affected by floods in Quang Ngai Province.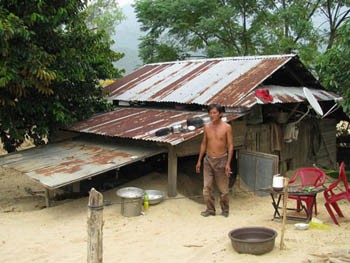 Floods swept away everything in this man's house in Dai Loc District, Quang Nam Province, and filled it with sand (Photo: SGGP)
The doctors, who were accompanied by an HAGL representative, provided health checks and medicines to people in Binh My Commune, one of worst flood-affected areas in Binh Son District.
Many older people and children have stomach ache or constipation after eating uncooked instant noodles for the last few days.
The commune's deputy chairwoman, Pham Thi Lieu, said Typhoon Ketsana and the resultant floods destroyed most of the local canals and roads while 1,550 out of 1,698 houses in the commune have lost their roofs.
Most residents are poor and depend on farming crops, cattle, and fish for a livelihood.
The floods destroyed 40 hectares of cassava, 193 hectares of rice, 196 hectares of sugarcane, and 33 fish ponds in the commune alone.
Kind-hearted people in misfortune

After SGGP wrote October 3 about people in Dai Nam and Dai Lanh communes, Dai Loc District, Quang Nam Province, whose lost their family members and houses, Pham Thanh, a car showroom employee, and Nguyen Thai Hoa, who works for Agrisco Stock Exchange in Danang, collected money from their friends.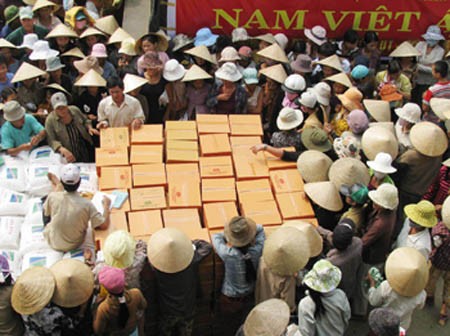 People in Dai Loc receive food and other relief materials (Photo: SGGP)
Within a morning, they had collected over VND30 million for people in the two communes.
They told SGGP they would continue to seek donations.
Than An, director of Nam Viet A Investment and Construction Company, and Nguyen Thanh Phuong, chairwoman of Ban Viet Investment Fund Management Company in Danang, and their friends also appealed for help from companies.
They have VND1.8 billion (US$100,000), 10 tons of rice, and 10,000 boxes of instant noodles for the two communes.
They also gave VND5 million each to 49 families to repair their houses.
SGGP launched a campaign on October 7 to help students in flooded areas to go to school.
Ace Life Insurance Company donated VND200 million to repair damaged schools in Quang Nam and Quang Ngai provinces.
The SGGP office in Danang gave VND5 million to 10 poor city families whose homes have lost their roofs.
Elsewhere, SGGP and Kon Tum newspaper gave VND100 million to bereaved families in Tu Mo Rong, one of the worst-hit areas, in Kon Tum Province.
SGGP is continuing to call on benefactors to aid people in the affected areas.
13 saved from flooded mountain fields in Dac Lac
The army rescued 13 people marooned in their fields by the floods in the Central Highlands province of Dac Lac on October 7 after a two-hour struggle.

Unusually heavy rain lasting eight hours from the previous day afternoon had submerged many communes in Ea Sup District.

The inundation isolated mountain fields in Cư M'Lan Commune, leaving the 13 people marooned.

When troops arrived, the water had reached nearly the top of their sentry boxes.

The same afternoon, the floods receded from Cư M'Lan commune but water from the upper reaches of the Dak Bung River flooded T'Mot and Ea Bung communes.

Dac Lac authorities have asked people to remain in safe areas to prevent further loss of life.