Vietnamese President Truong Tan Sang held talks with his Kazakh counterpart Nursultan Nazarbayev in Hanoi on Oct. 31, following a welcome ceremony given to the Kazakh leader.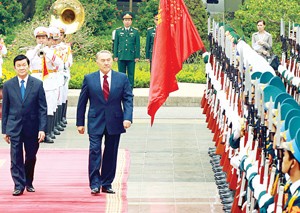 Vietnamese President Truong Tan Sang (L) and his Kazakh counterpart Nursultan Nazarbayev review an honor guard during a welcoming ceremony at the presidential palace in Hanoi on October 31, 2011. (Photo: Minh Dien)
President Sang warmly welcomed the Kazakh leader's first official state-level visit to Vietnam, describing it as an important step in consolidating and developing the traditional friendship and multifaceted cooperation between the two countries.
He affirmed Vietnam always attaches importance to consolidating and developing relations with traditional friends, including Kazakhstan, while implementing its foreign policy of independence, self-reliance, multilateralization, diversification, and regional and international integration.
President Nazarbayev spoke highly of Vietnam's achievements in its renewal process, adding they helped improve the country's position in the world.
The two leaders stressed that the Vietnam-Kazakhstan traditional friendship is a firm foundation for the two countries to maintain, consolidate and develop cooperation in the new situation.
The two Presidents agreed that Vietnam and Kazakhstan have great opportunities to consolidate and intensify bilateral multifaceted cooperation in politics, trade, investment and many other sectors.
The two leaders agreed to take advantage of each country's strengths, and requested positive measures to increase two-way trade, which remains modest.
They expressed hopes of attracting mutual investment in infrastructure, mining, garment and footwear production, and setting up joint ventures for processing Vietnamese rubber, vegetables and seafood, and packaging Vietnamese tea and coffee in Kazakhstan.
The two sides held that with their advantages and potential in energy development, the two countries will continue to intensify cooperation in oil and gas exploration and exploitation, considering it a prioritised and promising cooperative goal.
The two sides said they would encourage businesses to exchange information, set up relations and seek effective cooperative forms, including joint ventures.
The two leaders reached consensus on regional and international issues of common concern, affirming their intention to cooperate at international forums and organisations.
They affirmed to each other in their candidacy for the UN Human Rights Council, of which, Vietnam will run for the 2013-2016 term, and Kazakhstan, the 2012-2015 term.
The Vietnamese leader shared Kazakhstan's desire to increase ties with ASEAN countries and said Vietnam is ready to act as a bridge to develop ASEAN-Kazakhstan relations.
He thanked Kazakhstan for its support for Vietnam to become a member of the Conference for Interaction and Confidence Building Measures in Asia in June 2010.
On the occasion, President Sang expressed his gratitude to leaders and authorities at all levels of Kazakhstan for their support to the Vietnamese Community in the country, saying he hoped that the Kazakh side will continue to facilitate Vietnamese people's living, working and business in the country.
After the talks, the two sides issued a joint statement. The two leaders also witnessed the signing of six documents, including an agreement on judicial assistance in civil matters, an agreement on double taxation avoidance, an agreement on tourism cooperation, a protocol to supplement the agreement on education cooperation that was signed by the two governments on Sept. 15, 2009, an agreement on civil aviation cooperation and a cooperative agreement between the Ho Chi Minh City and Almaty city.
The same day, Party General Secretary Nguyen Phu Trong met with President Nursultan Nazarbayev.
At the reception, the Kazakh President spoke highly of Vietnam's role in the region and the world.
He said Kazakhstan will further strengthen multifaceted cooperation with Vietnam, especially in trade, investment, culture and education and training.
Party General Secretary Trong applauded the visit, saying it is a strong symbol of the traditional friendship and cooperation between the two countries.
He thanked Kazakhstan's people for their great support for Vietnam's national construction and defence, stressing that Vietnam always attaches importance to developing relations with foreign countries, including Kazakhstan.
While receiving the Kazakh President, National Assembly Chairman Nguyen Sinh Hung said apart from cooperating in economics, the two sides should promote exchange and cooperation in culture, society, defence, security and diplomacy.
As a member of the Association of Southeast Asian Nations (ASEAN), Vietnam will create good conditions for Kazakhstan to strengthen relations with ASEAN member countries, Hung said, adding that the Vietnamese National Assembly will do its utmost to further foster the friendship between the two countries.
The Kazakh President said that relations between the two countries' legislative bodies played an important role in considering, assessing and speeding up the implementation of agreements signed by the two nations.
He suggested the national assemblies of Vietnam and Kazakhstan promote cooperative activities with the aims of contributing to building the friendship between the two countries.
He expressed hope that the two countries will cooperate further in all fields, especially in student exchange, to enhance cultural exchange and mutual understanding between the two nations.