The joining up of Vietnamese startup carrier Air Mekong and Blue sky have flashed new signal for domestic market which is overloaded.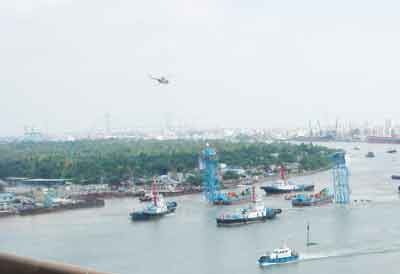 Helicopter used to supervise four tugboats to drag the immersed section. Planes will be used in various sectors (Photo: Anh Hao).
By statistics, around 26.16 million air passengers and 445,8000 tons goods were transported through aviation in 2009, an increase of four times compared to 2000. Apart from that, Vietnam has seen an increase of 33 percent in the first seven months of this year up to the last year period.
The number proved that Vietnam's air market has grown so fast.

Up to date, nine operational airlines in Vietnam are Vietnam Airlines (VNA), Jetstar Pacific Airlines (JPA) Vasco, Viet Air, Indochina Airlines, Mekong Air, VietJet Air, Blue Sky Air and Trai Thien Air.
Although many airline companies have been granted license, only VNA and JPA exploited flights. Because only VNA exploited over 80 percent domestic services, it is overloaded with routes Ho Chi Minh City – Phu Quoc and Ho Chi Minh City – Da Nang.
Recently, the central province of Da Nang and the highlands province of Lam Dong ordered VNA to launch more flights to two provinces in order to satisfy increasing demands.
The 100% Vietnamese carrier Air Mekong planned to launch operations with domestic flights on October 10. It will provide services including Hanoi-Phu Quoc, Hanoi-Ho Chi Minh City, Hanoi-Phu Quoc, and flights from Hanoi to Da Nang, Nha Trang, Da Lat and routes from HCMC to Da Nang, Nha Trang, Da Lat, Con Dao Island, Buon Ma Thuot, Hai Phong and Vinh.
"Air Mekong is waiting for approval from the Civil Aviation Administration of Vietnam", said Truong Thanh Vu, the company's Commercial Director.
Although aviation grow steadily, people rarely use planes for other services including in industry, agriculture and forestry fields or seeking and rescuing victims. To respond to the demand, the Civil Aviation Administration of Vietnam has been approved the first private carrier, Blue Sky Airline, to use helicopters, hydroplanes and other varieties.

Since then, Vietnamese people will get familiar with the landing of a helicopter on a skyscraper, commercial center, on beach or in resort. It is big effort of Vietnam's air sector in competitive era.


To mark one thousand years of Thang Long-Hanoi, Vietnam's low cost airlines - Jetstar Pacific –is offering low-cost tickets for routes Hanoi-Ho Chi Minh City, Hanoi-Da Nang, HCMC-Da Nang. These flights will depart from September 7 to October 27.

For bookings made on August 31, the one-way fare flight costs VND315, 000.

Tickets are available at www.jetstar.com and Jetstar's agents in big cities.