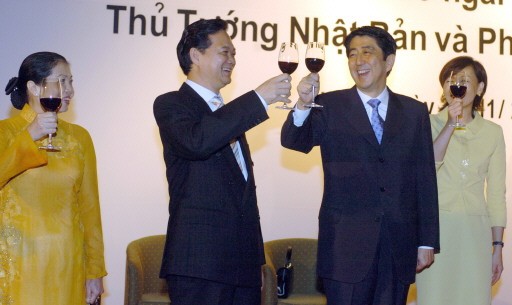 Visiting Japanese Prime Minister Shinzo Abe (R) and his Vietnamese counterpart Nguyen Tan Dung, flanked by their wives, toast during a banquet given by the Vietnamese prime minister in Hanoi Nov. 20, 2006
It is time to start a new investment wave of Japanese businesses in Viet Nam, said Japanese Prime Minister Shinzo Abe in an international press conference in Ha Noi on Monday.
The Japanese PM also confirmed Japan always backs Vietnamese efforts to boost its economy and fight poverty in a bid to improve ties between the two countries
He expressed his thanks to the Vietnamese government and people for their hospitality, enthusiasm and considerateness. He hoped that the cooperation between the two countries would be stimulated, especially in investment and trade for mutual benefits.
There is an interesting point in the conference which is the story about the meeting between PM Shinzo Abe and Vietnamese students before his visit to Viet Nam. "I was deeply impressed by the Vietnamese students", said the PM.
Mr. Shinzo Abe attended earlier wreath-laying ceremony at the Martyr Memorial and visited the Ho Chi Minh Mausoleum.
On the same day, the Japanese PM was received by Vietnamese President Nguyen Minh Triet. The president expressed thanks to the Japanese government for supporting Viet Nam's entry to WTO, as well as holding APEC meeting and the great help from Japan , especially ODA. The president confirmed Viet Nam would control strictly and use effectively ODA.
Mr. Triet also welcomed the Japanese government and businesses' decision to increase investment into Viet Nam, helping Viet Nam develop infrastructure and high tech. He said that this was a very important decision for Viet Nam's development policies.
For his part, Japanese PM Shinzo Abe congratulated President Nguyen Minh Triet on APEC success and WTO entry. He said that there were 130 businesses accompanying him in the visit because the investors wanted to gain first-hand knowledge about the investment environment and cooperation opportunities for their future business in Viet Nam.
On this occasion, the Japanese PM invited the Vietnamese president to visit Japan. The president received the invitation with pleasure.
In the afternoon, Japanese PM Shinzo Abe left Ha Noi, ending successfully the official visit to Viet Nam.