The Japan Bank for International Cooperation will provide over US$1.2 billion in loans to finance the Giap Bat-Gia Lam Elevated Railway Project, according to an agreement signed Monday by the bank and by the Vietnamese Ministry of Finance in Tokyo.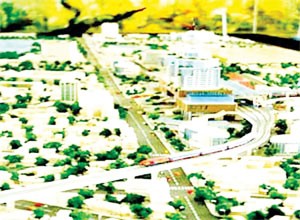 An artist's impression of the elevated railway in Ha Noi
The country's first elevated railway will run from Giap Bat to Gia Lam district in Ha Noi, a distance of 15.26 km, 10.57km of which will be elevated.

Nine new stations will be built and the Gia Lam station will be upgraded. Four stations, namely Ngoc Hoi, Giap Bat, Ha Noi and Gia Lam, will become common stations with the national railway. Other small stations will carry passengers inside the city.

The project will break ground in April and will finish by 2017. The overhead rail route will go through seven districts of Ha Noi and will require the relocation of 1,116 households. Site clearance is expected to cost around VND3 trillion (US$187.5 million).

Once completed, 27 trains with three carriages each will be able to transport some 150,000 passengers a day. There will be a train every four minutes.

The project is part of the 25km Ngoc Hoi-Yen Vien overhead rail route, which will link Ngoc Hoi in the south with Yen Vien, east of Ha Noi.

The initial stage of construction will be from Giap Bat to Gia Lam railway station and the second phase will be from Yen Vien to Gia Lam station and Giap Bat to Ngoc Hoi station.

The elevated Ngoc Hoi-Yen Vien twin railway is expected to ease traffic congestion in Ha Noi and ensure safe rail transport.