Israeli President Reuven Ruvi Rivlin and his spouse left Hanoi on March 25 evening, wrapping up a week-long State visit to Vietnam at the invitation of Vietnamese President Tran Dai Quang.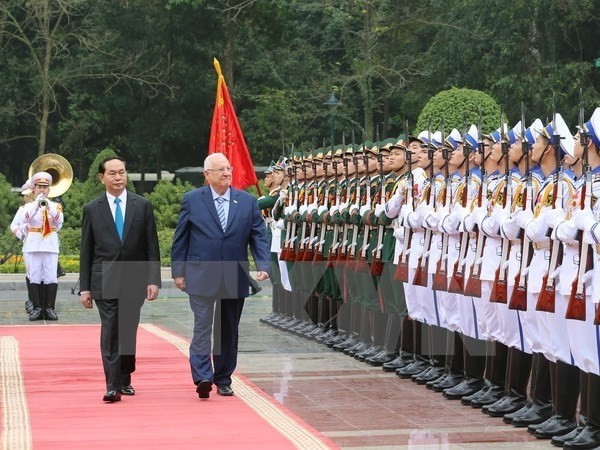 Presidents Tran Dai Quang (L) and Reuven Ruvi Rivlin review a guard of honour at a welcoming ceremony for the Israeli leader in Hanoi on March 20 (Photo: VNA)
During the visit, President Rivlin had talks with his counterpart Tran Dai Quang and met with the media. He also had meetings with Party General Secretary Nguyen Phu Trong and Prime Minister Nguyen Xuan Phuc.
He met Chairman of the Hanoi People's Committee Nguyen Duc Chung and witnessed the signing of a memorandum of understanding (MoU) on a hi-tech healthcare complex in Hanoi between Vietnam's TH group and Israel's MedicDan Ltd and Staromedic R.N International.
The visiting President also met Chairman of the Ho Chi Minh City People's Committee Nguyen Thanh Phong. They witnessed the signing of another MoU on a financial package worth 200 million USD on health care between Israel's Jasmine Group and local real estate firm Dat Vang.
At the meetings, the two sides affirmed the resolve to enhance cooperation, particularly in economy and science-technology. They voiced the belief that close cooperation between the two Governments and business circles will accelerate the development of bilateral economic and trade relations.
They agreed to turn economy into the focus and science-technology into a prioritised pillar of the countries' cooperation in the time ahead. They shared the view on the need to boost trade to 3 billion USD in the next few years.
Israeli President Rivlin pledged to assist Vietnam to detoxify Agent Orange-contaminated areas.
The two sides also discussed ways to enhance ties in security-defence, culture, education-training and tourism, along with locality-to-locality cooperation.
Leaders of Vietnam and Israel said they will increase meetings at all levels, encourage direct partnerships between localities, ministries and sectors, and bring into play bilateral cooperation mechanisms such as the inter-governmental committee and political consultations.
They also exchanged views on the East Sea and Middle East issues, along with other international affairs, stressing that cooperation plays an important role and is a trend to keep peace and stability in the world.
During their stay in Vietnam, President Rivlin and his spouse laid a wreath at the monument to heroic martyrs and visited the Mausoleum of late President Ho Chi Minh in Hanoi.
He attended a business forum, a defence industry forum, and a friendship concert between Vietnam and Israel. He witnessed the signing of a MoU on research and development cooperation between the Israel Innovation Authority and the National Technology Innovation Fund of Vietnam.
Additionally, the leader visited Ha Long Bay in Quang Ninh province, the hi-tech agricultural project of VinEco Tam Dao in Vinh Phuc province, along with the Nguyen Van Troi Primary School in District 4, the clinic of Family Medical Practice in District 1, and a project supporting the disabled in District 2 of HCM City.