Several different theories have been advanced as to why two spans of the unfinished Can Tho Bridge came crashing down on Wednesday morning, and the experts are a long way from reaching consensus.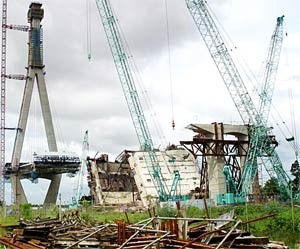 The wreckage of Can Tho Bridge

Mr. Nguyen Van Cong from the Ministry of Communications and Transportation says the heavy rain during the night of September 25 softened the land, causing the pylons to settle and tear down the bracing for the freshly poured spans.

Mr. Nguyen Ngoc Long, director of Work Quality Assessment and Management, has a different opinion and blames the contractor for poor supervision. He says the bracing for the new work was too weak and wants to know why.

An on-site supervisor also reckons there are no grounds for thinking that the bridge collapsed due to any softness of the land, and points out that the main pylons didn't budge and only the minor pylons sank into the earth a little.

He believes the culprit of the collapse is faulty design, specifically the load-bearing capacity of the minor pylons.

Now that he has examined photographs of the wreckage, Chu Ngoc Sung from the Hanoi Sciences and Techniques Association pinpoints the blame on a section of bracing that broke and brought down everything with it.

If that is indeed what happened, then the construction company is responsible for the bridge collapse, according to Sung.

Dr. Dao Xuan Lam, former general director of Transport Engineering Design Inc. (TEDI), refuses to blame the designers and reckons the contractor is at fault for ignoring the softness of the ground where the pylons stand.

He explains that the wet concrete was too much for the pylons to hold steady and suggests the engineers might have failed to include the extra weight of water in their calculations. It goes without saying that concrete is far heavier when it is poured than when it has dried and set.