The third international workshop on the East Sea wrapped up in Hanoi by afternoon of Nov. 5 calling for an absolute commitment to the security of the East Sea.
The two-day workshop themed "East Sea: Cooperation for security and development in the region", was attended by more than 200 foreign and domestic delegates who heard 31 speeches and noted  70 opinions relating to topics on the East Sea.
Scholars speaking at the workshop emphasized the importance of the East Sea, its economic value, its important shipping routes, and how the territorial waters are of great significance to economic growth to countries surrounding the East Sea as well as other countries in the region and the world.
Scholars pointed out that the move by countries involved in disputes over the region, to buy more military equipment to modernize their armies has only escalated the tension in the region.
Referring to the recent situation in the East Sea, delegates and scholars shared the same opinion that the East Sea issue is now becoming more complicated as concerned parties are of conflicting opinions and not being able to find a common platform to settle their differences.
Regarding international law, the delegates underlined the role of the 1982 United Nations Convention on Law of the Sea (UNCLOS) in curbing and managing threats to maritime security and safety in the East Sea.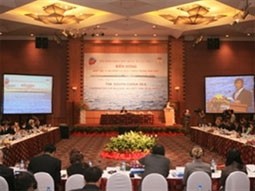 Delegates at the third international workshop on the East Sea.
They said that UNCLOS can be applied to clarify sovereignty claims of disputed parties, thus putting an end to unnecessary artificial propping of construction just to declare a claim over the territorial waters.
UNCLOS should be considered an effective tool to protect interests of all parties and the most important platform for discussions. Relevant parties need to strictly implement UNCLOS in both internal and external affairs relating to the East Sea, the delegates said.
The delegates also proposed a number of measures to promote cooperation in the East Sea based on experiences of many countries worldwide in addressing sea disputes.
The most noteworthy were initiatives to build a well managed system for the aqua industry at a regional level and effectively control marine pollution, while setting up a bilateral or multilateral network of marine reserves as a solution to replace the current unilateral prohibition on fishing.
Scholars said that in order to settle the East Sea dispute amicably, relevant parties must persistently pursue negotiations, increase dialogue in the spirit of cooperation and respect for international laws, refrain from violation and create transparency for sovereignty claims over the seas and islands.
The establishment of a Code of Conduct for Parties involved in the East Sea will help to build trust among countries and create a peaceful and stable environment and encourage parties to cooperate in the management and exploitation of natural resources in the East Sea in an amicable way with each other.
The seminar is being seen as an effort to promote international cooperation in matters regarding the East Sea.