The 2nd Asia-Pacific Geoparks Symposium themed "Geoparks and Geotourism for Regional Sustainable Development" opened in Hanoi yesterday, attended by 170 scientists from 17 countries.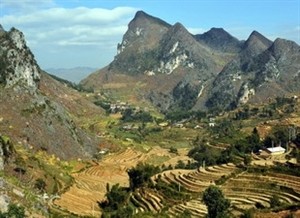 Dong Van Stone Plateau (Photo: VNA)
Minister of Natural Resources and Environment stated that it would be a learning experience for Vietnam to manage and develop geoparks as well as boost relations with other countries.
The conference will discuss policies and plans to promote geoparks and geotourism throughout Vietnam.
Delegates will also discuss ways to popularize geoheritage sites, geoparks and geotourism and ways to introduce new geoparks or areas aspiring to become geoparks.
A string of activities will be hosted throughout the event to boost preservation and promotion of geoparks and geoheritage, including a photography competition and a lecture contest about geotourism tours.
Vietnam currently has 12 world heritage sites, eight world biosphere reserves, three Ramsar sites (wetlands of International Importance) and dozens of national parks and natural reserve sites.
UNESCO recognized the Dong Van Stone Plateau in the northern province of Ha Giang as a global geopark on October 3, 2010. It is the second geopark in the southeastern region.