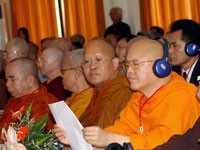 Buddhist clerics at the conference (Photo: VNA)
Most Venerable Thich Hien Phap on July 15 called on Buddhism local and foreign researchers to raise as many proposals for the religion's development on the basis of national culture as possible.
Superior Buddhist Monk Thich Hien Phap, who is Vice President and Secretary General of the Viet Nam Buddhist Shangha's Executive Council, also called for more efforts to be made to reform the Buddhist organisation and to design a roadmap for co-existence between Buddhism and the nation in a practical and feasible way.
He said that leaders and believers of different Buddhist sects should pay more attention to the practicing and worshipping of the religion amidst an increasing impact by challenges of the time on cultural traditions.
The Vietnamese Buddhist leader was speaking at an international Buddhist workshop, which draws in over 200 senior Buddhist clerics and experts from all parts of the world, including France, the US, Japan, India, Taiwan, Thailand, Germany, Australia and Canada. The three-day event is to go till July 17.
The workshop, themed "Buddhism in Modern Time: Opportunities and Challenges," collected 85 reports and scientific findings on four major issues, namely Buddhism and global issues, religious contributions to solutions of global and national problems, Buddhism and the nation, and Buddhism and political-economic issues.
Many reports delivered at the event highlighted the inter-action between the Buddhist culture and national culture in Vietnamese History, as well as, Buddhist contributions to Viet Nam's cultural development.
A first ever mass prayer for peace and stability, involving some 600 international Buddhist clerics and followers, was held under the chair of Buddhist clerics from Tibet of China, on the sidelines of the workshop.
Source: VNA