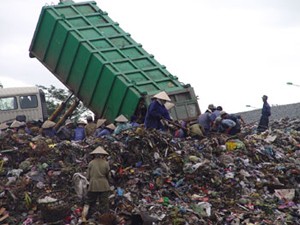 A view of Khanh Son dumpsite in Danang City
Investigators from the Danang City People's Committee have reported several shortcomings following an inspection of the city's drainage and environmental sanitation project.
They said the new Khanh Son dumpsite, a division of the project with funding of US$2.8 million, had no system to collect bio-gas as it was initially intended to. Additionally, the area between the dumpsite, residential areas and green space was not wide enough.
Hazardous disposal containers haven't been used which has wasted funds.
Despite treatment, wastewater at the dumpsite was also found to be highly contaminated with disease-causing microorganisms, heavy metals, and harmful chemicals. Mud-receiving and septic tanks needed to be replaced, they said.
The project included plans to build 45 public lavatories around the city, but to date only 19 have been constructed. Of this, just 13 are currently operational and 6 are rarely used.
Tran Van Minh, chairman of the city People's Committee, has instructed investigators to inspect and assess the effectiveness of other divisions of the project.
He also ordered inspectors to clarify responsibilities of those involved in the project and present measures to deal with the shortcomings.
The project was completed in June 2007 at a total cost of $42 million but has remained controversial in regards to its effectiveness.