Around 700 work-related deaths are reported each year, but not all of the victims' families are compensated. This year the country's Labour Accident Insurance Fund is running a surplus, said a labour expert, raising questions as to what could explain the discrepancy.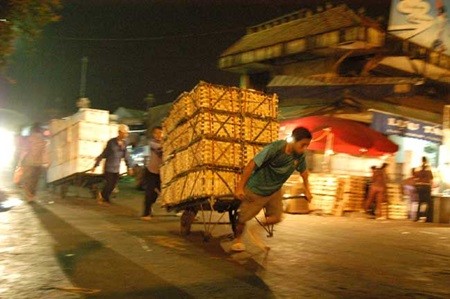 A worker at Long Bien Market can earn VND50,000-60,000 (US$2.38 to $2.85) each night. The Government needs to include informal workers in the Labour Accident Insurance Fund to compensate for their injuries in work accidents — VNA/VNS Photo Quang Hai
The expert, who prefers to be unidentified, explained that many workers failed to enter into a labour contract with their employers, making accident compensation voluntary.
"It's very important that informal workers are compensated. I can not accept the fact that the insurance fund is getting bigger while many workers and their families have been left to fend for themselves", said the expert.
Ha Tat Thang, head of the Department of Labour Safety, said informal workers are often unprotected and need the Government to take action to change the country's labour policy to benefit all of its workers.
Truong, a construction worker from Nga Hoang District of Bac Ninh Province, suffered a permanent injury to his legs in a work accident. He said his employer made a contribution to his hospital fees but he was not aware of accident insurance as a possible avenue for compensation.
"I wish I knew about it before. It would have been of great assistance to my family," Truong said.
In current debates over the construction of the new Laws on Occupational Safety and Hygiene, policy makers have stressed the importance of including informal workers in the country's Labour Accident Insurance Fund, said Dieu Ba Duoc, Chief Policy Enforcer of the social insurance agency.
Duoc said questions as to who should be responsible for paying the insurance money for informal workers and how they should be covered have been raised.
Minister of Labour, Invalids and Social Affairs, Pham Thi Hai Chuyen told Tien Phong newspaper that the ministry was well aware not every worker in the country is covered by labour accident insurance.
She added that there are more issues than just who is covered. Even when workers are contracted and covered by accident insurance, employers are often not willing to report accidents to authorities.
Employer's avoidance often hurts the rights of workers and so the ministry has proposed several solutions to be included in the new occupational safety law.
One solution is to pay workers directly in the case of an accident, another is to incentivise employers to improve work safety by offering subsidies. The ministry also proposed the Government to establish a insurance fund and encourage informal workers to also be contributors.
Bui Sy Loi, deputy head of the National Assembly Committee for Social Affairs, also said that workers must be protected and must have safe working environments.
Policy makers, therefore, are obligated to step up their efforts to ensure informal workers will be covered, he encouraged.