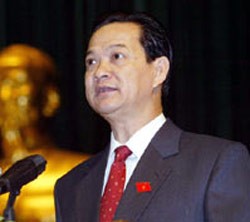 Prime Minister Nguyen Tan Dung
Prime Minister Nguyen Tan Dung said on Thursday that curbing inflation and spurring economic growth are the Vietnamese Government's current top priorities.
During a meeting with top officials from banking, food and agriculture sectors, Mr. Dung said the latter area should build on its strength in farm production, animal husbandry and aquaculture to boost exports, joining the entire nation in an effort to curb inflation and push up economic growth.
The Government leader asked the agricultural sector to stabilize food prices, ensure food security, appropriately impose rice export quotas, provide financial and seed support to farmers, and intensify measures to prevent cattle and poultry diseases.
The PM also called for more seafood exports, targeting the goal at over US$4 billion this year.
Last but not least, he asked all state agencies to take special care of the lives of the poor, and residents in remote areas who are most vulnerable to recent price hikes. 
The meeting in Ha Noi was attended by leaders from the ministries of Agriculture and Rural Development, Industry and Trade, Finance, Planning and Investment, the State Bank, state-run food corporations, the Food Export Association, and the Viet Nam Association of Seafood Exporters and Producers.