A terrifying inferno flared up at a shoe-making factory yesterday afternoon, in Tan Dan Commune of An Lao District in the northern city of Hai Phong, killing 13 people and seriously injuring 21 others.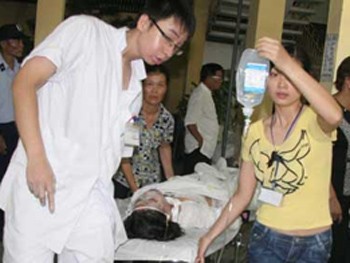 A female burn victim receiving emergency aid in Viet Tiep Friendship Hospital in Hai Phong City (Photo: Tuoi Tre)
The factory was owned by a Chinese man, married to a local Vietnamese woman named Bui Thi Thu Hien. The premises were operating without any legal license for the last 3-4 months.
The 100 square meter factory had only a make-shift construction with no emergency exit. When the fire started and began to flare, workers had no way out and local people who rushed to their rescue were unable to extract them from the blaze.
The fire could have been caused by a short circuit in the electric fittings or from sparks caused by welders working in the factory at that time. Amongst those killed was Hien's younger sibling.
It took a full hour to bring the burning inferno into control.