Water quality in canals has worsened in Ho Chi Minh City with a constant flow of polluted waste being dumped from industrial units, despite the city authorities' best efforts.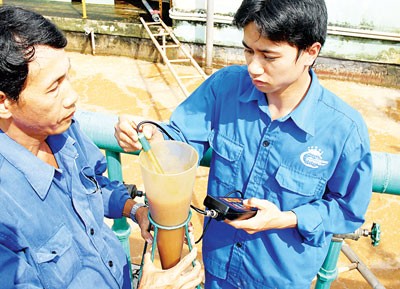 Workers testing concentration of substances in wastewater at Vinh Loc Industrial Zone in HCMC (Photo: SGGP)
According to a recent report on the quality of water flowing in the city canals by the Department of Natural Resources and Environment,   the canal water was highly polluted, especially immediately after high tide.
Bui Thanh Tam Phuong, an official from the department, said that instead of building a treatment system, a lot of businesses discharge untreated wastewater directly into the canal.
They usually justify this on lack of space or shortage of capital for constructing a waste treatment facility.
Many polluting companies have been relocated to industrial and export processing zones, but despite this, continue to release untreated wastewater indiscriminately. Some businesses that have built treatment systems operate them only perfunctorily during inspections by officials.
Meanwhile, lax environmental regulations are also a ground for repeated violations, said Nguyen The Dong, deputy head of the Vietnam Environment Administration.
At the State level there are the Ministries of Natural Resources and Environment and Public Security, at the local level there are the department of natural resources and environment, the police and environment inspectors of the industrial and export processing zones, said Dong.
All these organs are authorised to establish inspectorate teams to examine businesses. Thus one enterprise might receive ten teams of inspectors a month, with each group of inspectors having their own way of determining pollution levels and issuing fines.
Relevant authorities have not so far implemented effective measures to reduce environmental pollution, such as by prosecuting businesses or forcing them to halt operations.
Experts from Japan International Cooperation Agency, which sponsors Vietnam in projects to prevent water pollution, believe that large businesses should be severely punished if found polluting the environment.
Besides, authorities should encourage residents to monitor, uncover and denounce polluters. They should ensure that those operating in businesses like dying, paper, monosodium glutamate production, and seafood processing must always adhere to environment protection regulations.
Authorised agencies and departments should implement effective measures to force businesses to commit to damage control if they pollute the environment, and carefully estimate environmental impact before licensing any enterprise to begin operations.