An Indian businessman was presented with an award "For Peace and Friendship among Nations" on November 1 in Ha Noi for his contributions to promoting the friendly ties between the Vietnamese and Indian people.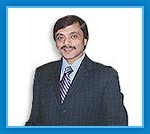 Mr. Shantanu Srivastava,
The Indian Managing Director of Ishan International Company was presented the award by Mr. Tran Dac Loi, vice chairman of the Viet Nam Union of Friendship Organizations (VUFO)

During his 25 years working as diplomat and businessman in Viet Nam, Mr. Srivastava has called for the contribution of his Indian businessmen peers in building 20 houses for the poor and displaced in Can Gio District.

Mr. Srivastava has also offered money to assist flood victims in the Mekong Delta.
At present, he is making donations to build "Vietnamese Houses" in New Delhi and Bombay.