There has been much public concern of late in the rise in domestic violence cases in Vietnam.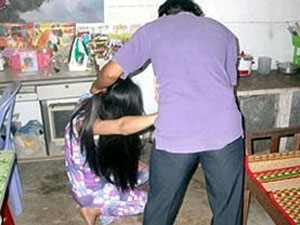 For illustration only
Le Thi Quy, director of the Center for Gender Research and Development at the University of Social Sciences and Humanities, is a pioneer researcher on gender and domestic violence in Vietnam.
Quy said there are no statistics on domestic violence cases so far and hence it is difficult to say if there is an upward trend. Only via the media do people hear of severe cases.
Every member of a family could become a victim, though often it is the women, children and the elderly who suffer.
Inequality among the sexes is the main reason behind domestic violence, with women and children having to bear the main brunt. Men believe they have the right to beat their wives or even kill them.
As in a case in Thanh Xuan District in Hanoi, where the husband beat his wife with hand tools; or as in the northern province of Hai Phong where the father-in-law slashed a daughter-in-law's throat for giving birth to a girl child, said Quy.
Meanwhile, there are cases in which the wife kills her husband in self-defense or from anger for being mistreated for years. Quy pointed out that in most cases, drunken husbands cause the violence and proposed a restriction on wine sales.
In addition, she added that there was degradation in social ethics as more and more cases involved children turning against their own parents. This showed lax education among families and schools and added to this was the current trend in violence in films and pornography viewing among the younger generation.
Quy said that domestic violence must be considered a social violence and harsh penalties should be implemented on family members committing such crimes.