The property market has stalled and it has yet to see transparent and healthy development due to inadequate and inconsistent land policies.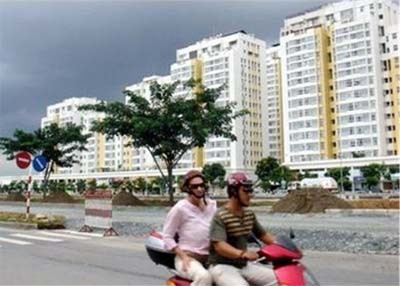 A new urban area in Ho Chi Minh City's District 2.
The statement was agreed to by participants at a seminar on policies for land and real estate market, held by the Ministry of Natural Resources and Environment (MoNRE) in Ho Chi Minh City on September 25.
Three price fevers during 20 years
Dao Anh Kiet, director of the HCMC Natural Resources and Environment Department, said there were three land price fevers in the city during the past 20 years, with the first one in 1991-1992, the second one in 2001-2002, and the third one in late 2007 early 2008.
After every price fever, a new price band was established on the property market, causing negative impacts on the society and difficulties for the process of industrialization and urbanization as it pushed up land prices, he added.
Mr. Kiet said working populations do not have many opportunities to buy land because land is priced beyond their incomes.
He said inadequacies of the land policies have impacted the property market, adding that regulations on land have changed continuoulsy and they have yet to keep with the development of the market.
Though administrative procedures have been reformed, they are still complicated. Methods of tender and auction for land use rights are ineffective, Mr. Kiet added.
Le Chi Hieu, chairman of Thu Duc Housing Development Joint Stock Company, said regulations on payment for land use are unfair.
For instance, joint venture companies that rent land to build houses for rent have to pay the fee for using land once. It means that they have to invest huge money compared to their projects and many of them can't afford it, he added.
Explaining the inadequacy of the Decree 69, Le Ngoc Tu, director of Binh Dan Housing Development Company, said, "If selling all houses in my project, I can get VND70 billion, while the fee I have to pay for using land is VND57 billion, not to mention that I have to borrow VND30-40 billion."
The State's role
Le Thanh Khuyen, deputy head of the Land Management Department under the MoNRE, said after three times of adjustment, the Land Law 2003 has given impetus to the development of the property market.
However, he said, there remain many problems and inadequacies that need discussion to define clearly rights of using land.
Dr. Tran Kim Chung, head of the Policy Department under the Central Economic Management Research Institute, said the State plays an important role in balancing the real estate market and preventing speculation during the market's development.
The State has to ensure that people's demands for housing are satisfied; otherwise it will result in social instability, he added.
Dr. Chung said the Government has to create legal environment for and support the real estate market.
In some cases, he said, the Government needs to intervene decisively and actively in the market, especially implement the public housing policy to provide residents with appropriate houses and limit trading houses.
According to the MoNRM's plan, until 2020, there will be about three million hectares of land used for the process of industrialization and modernization, and construction of infrastructure, and about one million hectares of land for residential areas.
Therefore, there will be a great demand for resettlement houses, Mr. Chung said.
Mr. Khuyen said the State's role in regulating land use rights needs to be heightened. The State should regulate prices through land supply and demand relation, policies and taxation, but not administrative management.
The State should be a manager and investor in the real estate market, he added.