The country's inland navigation system plays a critical role in the nation's economy but it is a waste that the use of inland waterway transport has not yet reached its full potential in Vietnam.
Inland waterways relieve congestion on already over-crowded highways and railways that run through cities. It is therefore needed to improve and upgrade waterway traffic to reduce pressure on land traffic.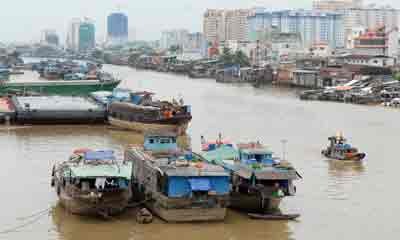 A section of Cho Gao canal which is lifeline for the whole navigation system of the Mekong delta (Photo: SGGP)
The Southeast Asian nation is generously endowed with navigable inland waterways in the south, especially Cho Gao canal in the Mekong delta province of Tien Giang.
The 28 km long waterway route from Ho Chi Minh City to Cho Gao Canal in Tien Giang Province is the only waterway linking the city with the delta region.
Although it is not long canal, it plays a vital role in waterway system of the South because freights from the city and the southeastern region to the Mekong delta are carried by ships in two ways but it has to go through the important canal, Cho Gao, according to Tran The Ky, the HCMC Department of Transport's Deputy Director.
Around 15 million of goods are transported via the inland waterway from Ho Chi MInh City to Mekong delta provinces each year and vice versa. The Cho Gao canal is, thus, congested with vessels and boats, with an estimated 1,500 of them passing through every day by statistics of the department. It took two days to resolve a serious traffic gridlock happened in the canal in May, 2008.
According to the waterway transportation association of Vietnam, traffic congestion in the canal has caused much loss to enterprises. It costs only VND60,000 to transport a ton of goods from Tien Giang province to HCMC but if there was a congestion in the canal, it would take away billions a day.
An upgrading project raised by the Ministry of Transport (MOT) nine years ago to dredge and expand the canal to ease traffic congestion and to build an embankment along the sides.
However, the project still can't satisfy the increasing demands and severe landslides has badly affected the canal, a fresh VND4 trillion (US$224 million) upgrading project including widening the canal, dredging and construction of an embankment along the canal. In addition, a traffic control station will be built to deal with traffic gridlocks and accidents. The project will commence in next year and complete in 2014.
There are also significant environmental benefits to the inland waterway system. Waterway with Cho Gao Canal is lifeline for the whole system in the region so MOT will focus on developing more the waterway system.