When news of a major gold discovery is announced and the locals come flooding in and start digging for the yellow metal, you know that the find is for real.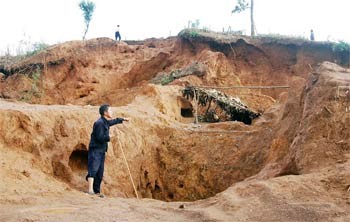 Digging for gold on the mountain
And that's what is happening on the slopes of Lua Cay, the tallest peak in Dien Bien Dong District, Dien Bien Province, where ethnic villagers in their thousands are making the one-hour trek from Phi Nhu Commune every day in the hope of unearthing the metal of kings.
 
It's not surprising when you consider that the price of gold has soared over the last seven years. Rich pickings indeed.
 
The gold reserves in the area have yet to be calculated but they are contained in several beds near the ground and therefore easy to get at.
 
The local authorities have forbidden the illegal mining and told the chiefs of 18 villages to keep their people in line, but no avail. After all, there's gold in them thar hills.