Even as floodwaters continued to rise drastically in Central Vietnam, many of the hydropower plants released water from their reservoirs causing even more damage to people and property.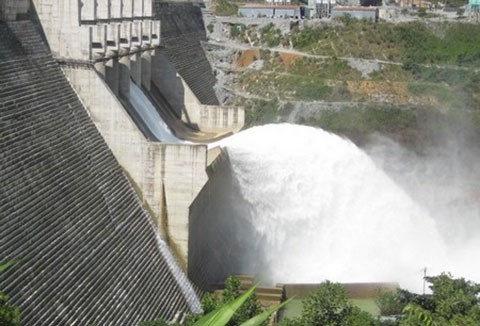 A hydropower discharging water
For this reason, the Deputy Prime Minister Hoang Trung Hai has said that hydropower plants must be held accountable for discharging unscheduled water.
In the sideline of the National Assembly on November 18, Deputy PM Hai told a Saigon Giai Phong Newspaper reporter that stakeholders, including hydropower investors and local authorities, must be held responsible for discharging water in the flooding season.
The discharge of water in large quantities from hydropower plants has worsened the current flooding situation in the central and highlands provinces and caused intense public outcry.
Deputy PM Hai said that related agencies and people's committees must tighten control of the operations and discharge of water from hydropower plants in their localities.
Deputy PM Hai also said the National Assembly has mulled over the hydropower development master plan. Under the decision of the National Assembly, the government has agreed to delete about 400 hydropower projects from the national plan.
Hai added that the government is very determined to stop such hydropower plants whose investors are irresponsible.
In future, the government will continue to check on all hydropower plants and any plant found to discharge water in large quantities will be held responsible.