Southern Hydropower Company signed deals with five contractors to begin the construction of two hydropower plants yesterday. The plants, to be named "Dasiat" and "Da Dang 2", will both be located in Lam Dong Province, 160 kilometers from Da Lat City, and will supply power to the central highlands region.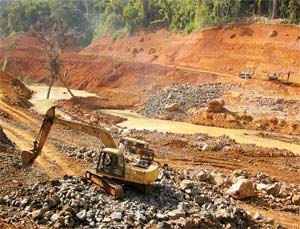 The Dasiat hydropower plant is under construction
The contract for the Dasiat plant, valued at VND61.2 billion (US$3.8 million), calls for the construction of a pressure pipe system, a waste tunnel, a power distribution station and other related projects. The plant is designed to produce 13.5 MW.
 
The Da Dang 2 plant will cost VND86.5 billion (US$5.4 million) to build and includes the construction of intakes, roads and other works. Da Dang 2 has been engineered to provide 34 MW.
 
Construction of the two projects is expected to take approximately 16 months to complete.
 
On the same day, authorities in the central province of Quang Ngai approved a project to build a VND80-billion wind turbine / diesel power plant on Ly Son Island.
 
The plant will feature 12 wind turbines with a total output of 3000 kW and 2 diesel generators, which together will also produce 3000 kW.
Once commissioned, the plant will supply a total of 24,600 kW of power per day with the wind turbines producing 15,400 kW and the diesel generators supplying 9,200 kW.
 
Construction of the new wind power plant represents only the second time such an endeavor has been undertaken. The first one was built on Bach Long Vi Island in the northern province of Quang Ninh.