A festive atmosphere has come back to the northern province of Phu Tho as the annual Hung Kings' Temple Festival celebrating the reign of the Hung Kings kicked off yesterday.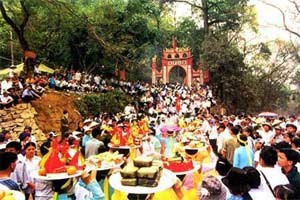 Pilgrims and visitors flock to the Hung Kings' Temple to attend the festival
The opening ceremony began with a traditional contest involving the making glutinous rice cake (banh chung) and round sticky rice cake (banh day), followed by a display of food specialties around the country and folk music and dance performances.

The winning team of the cake making contest will be determined by the organizing board this afternoon to receive the honor of carrying the offerings of glutinous rice cake and round sticky rice cake to Hung Kings tomorrow.

Some 17 organizations from Ha Noi, Ho Chi Minh City, Can Tho, Thanh Hoa Province and other provinces have joined the festival to open 60 kiosks at a fruit exhibition held at Hung Kings' Temple.

The exhibition entitled "Exquisite Specialties for Hung Kings" which has been held for the first time is a fresh feature in this year's festival to pay tribute to the rulers who were instrumental in the founding of the nation.

In related news, a delegation from HCMC led by Deputy Chairwoman of the city's People's Committee Nguyen Thi Thu Ha had a meeting with the Phu Tho Province People's Committee and offered incense and food specialties of southern region to the Hung Kings' Temple today.

Hung Kings' Temple Festival is one of the most important and scared events in Viet Nam. This year's festival is expected to receive 2.5 million pilgrims and visitors. It takes place from April 11 to 16.