Hundreds of thousands of people from all walks of life across the nation joined foreign diplomats and friends at the National Morgue, 5 Tran Thanh Tong Street, Hanoi, on October 12 to pay their final tributes to General Vo Nguyen Giap, who passed away on October 4.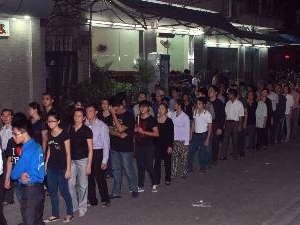 People queue up to pay tribute to General Vo Nguyen Giap. Photo: VNA
According to the funeral organisation board, by 9 pm on October 12, as many as 20,000 people had mourned General Giap's death at the National Morgue in Hanoi, including 200 delegations from the Party, State, Government, Fatherland Front and armed forces.
At the same time, the Thong Nhat Hall in Ho Chi Minh City received 770 delegations with over 80,000 people coming to pay homage to the General, including 27 delegations from international organisations and agencies in the city.
Meanwhile, more than 10,000 people gathered at the headquarters of the People's Committee of Quang Binh province, the homeland of General Giap.
More than 25,000 mourners have also offered incense General Giap Memorial House in his hometown in An Xa village, Loc Thuy Commune, Le Thuy district since he passed away. On October 12 alone, 15,000 people visited the house to bid farewell to their hero.
Many people, including children and the elderly, were still queuing at the three locations as night fell, eager to express their respects to General Giap.
During his 80 years of revolutionary activities, General Giap, who used to be a history teacher, devoted his life to the nation and people. His example offers a strong foundation for the transformation of Vietnam into a powerful and prosperous nation.