At least 250 people died or were injured when an unfinished bridge in the Mekong Delta city of Can Tho collapsed without warning on Wednesday morning.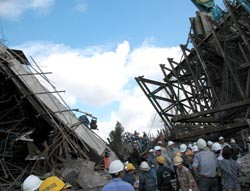 The Can Tho Bridge suddenly collapses this morning
Around 150 workers were on the Can Tho Bridge when it suddenly gave way and crashed onto a further 100 workers below.
A gas tank used for welding exploded following the bridge collapse, possibly worsening the situation.
The shock wave triggered by the collapse knocked down two nearby cafeterias.
Some 50 workers might be still trapped under the debris of the cable-stayed bridge that sources say came down after a 1,500 to 2,000-ton abutment collapsed, destroying a scaffold.
The victims were rushed to hospital as they were pulled from the rubble. All-out efforts are being made to find survivors still trapped under the masses of concrete.
Work started on the Japanese-funded Can Tho Bridge in September 2004 and was meant to have taken until December 2008.