Residents living in Thuy Phung Ward in Huong Thuy District of Thua Thien-Hue Province collectively pelted trucks with garbage cans, rocks and stones which they blamed for causing environmental pollution in their area.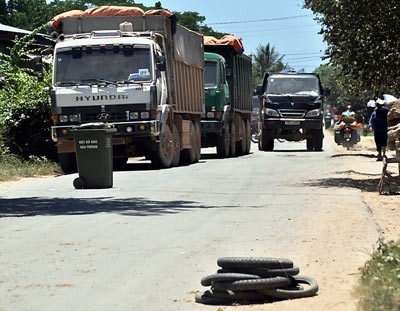 People pelted trucks with rocks and stones in Thua Thien-Hue Province.(Photo:SGGP)
On July 4, residents of Thuy Phung Ward tried to bar trucks carrying soil from moving, with many even standing in the middle of the road to stop them from plying. Under such hostile circumstances, many trucks were compelled to pull up on the side of the road.
Residents said that they were suffering from the dust and harmful smoke let out from trucks and the air pollution in the area had increased.
People had to sweep their homes every few hours as the trucks dumping soil travelled at high speed causing dust and exhaust fumes to pollute their living space. 
Residents in this region said that the trucks dumped soil on their streets, causing pollution and affecting their daily life which has worsened as a result. Many people were now resorting to wearing face masks.