Along the beautiful central coastline of Vietnam, besides luxury tourist resorts, another world lives in small narrow houses precariously balanced on stilts on the sandy shores, exposed to the elements during a storm.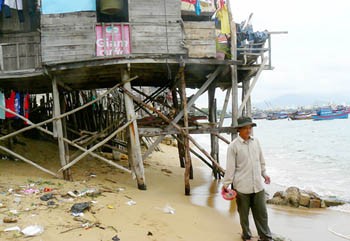 A temporary house precariously balanced on the sandy seashore (Photo: SGGP)
Most of the 350 residents living thus along Tran Phu Street in Nha Trang City of Khanh Hoa Province are perpetually in fear of the rough sea storms particularly during the storm season.
Their homes in Tay Hai residential area in Vinh Nguyen Ward have survived for decades, weathering every storm.
Three generations of 65-year-old Le Thi Lan's family have lived here on fishing as a means of livelihood. During the storm season, Lan said that high and rough waves engulf her whole house and threaten to swallow it up.
These temporary houses are often swept away into the sea and people have to rebuild annually after storms pass.
50-year-old Nguyen Thi Luong says people are always ready to flee their homes between October and December every year as their houses are usually lashed by furious gigantic waves. During this period, people move into rental accommodation for at least a month.
Duong Quoc Viet, chairman of Vinh Nguyen Ward in Nha Trang City said that they have proposed to city authorities to help the people living in Tay Hai residential area.
Nguyen Van Danh, chairman of Nha Trang People's Committee has responded that the city is planning to evacuate the Tay Hai residential area by 2015 as part of a project to develop Nha Trang as a central government city under a state government plan. However, the plan faces many obstacles particularly a shortage of funds.
People are also miserable because of coastal erosion in Duc Long Ward of Phan Thiet City in Binh Thuan Province.
According to several households in the ward, they have to rebuild their houses every year as the sea is encroaching inland and many people are forced to move their house location to avoid losing their home.
Nguyen Ba Hue from the ward said that high tide swallowed 86 houses in 2008 and collapsed 68 others last year. Hundreds of people had to live with relatives or in paid accommodation.
Binh Thuan Province has approved a plan to resettle people from Duc Long Ward but unfortunately there is no more available land left in Phan Thiet City. Construction of a sea dyke project is also running much behind schedule.
70-year-old fisherman Bay Ngu expressed his concern that he and other residents are far too poor to afford to buy new houses on their meager earnings. He hoped that local authorities would soon help them relocate to new premises.