A dry heat wave that has parched southern Vietnam over the last few weeks made kindling out of a slice of Dong Thap province as two fires tore a swath through Tram Chim National Park this week.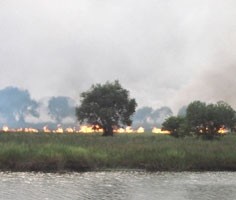 Tram Chim National Park in the southern province of Dong Thap was set a blaze by two large fires on April 25. (Photo:Lao Dong)
A fire spread through four of the park's zones on April 25 and the next day another blaze ripped through another zone 10 kilometers from where the first fire had started, local authorities reported. The park is located in the Mekong Delta province's Tam Nong District.
Fir experts said the hot and dry weather together with strong winds had fueled the quick spread of both fires.
Extinguishing the fires proved difficult as the affected areas were far from water systems and the terrain was difficult.
More than 1,000 people helped get the fires under control. Residents volunteered to help alongside forces from the military, fire departments and forest management bureaus.
Nguyen Van Duong, Deputy Chairman of Dong Thap People's Committee said the fires were under the control by 6pm on April 26. However, the province will ask a reserve force to keep watch on the situation 24 hours per day.
Duong said the blazes were the biggest fires Tram Chim National Park had seen in many years.
Total damages caused by the fires have not yet been estimated, according to the chairman.
Heat wave persists in southern Vietnam
Temperatures are expected to continue hovering around 36-37 degree Celsius over the next few days as southern Vietnam makes its way through the peak dry season, according to the Southern Meteorology and Hydrology Forecasting Center.
Ho Chi Minh City and southeastern provinces will see the highest temperatures, the center said.
Experts have predicted that the prolonged heat and dryness – the dry season arrived weeks early this year – could prompt a water shortage and damage crops. However, some southern areas will see rains the afternoon over the next few days.