More than 36,000 people visited the Ho Chi Minh Mausoleum in Hanoi on the National Day of Vietnam, September 2, said the mausoleum management.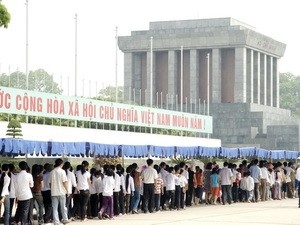 Visitors wait for their turns to get into the Ho Chi Minh Mausoleum in Hanoi on September 2, 2010. (Photo: VNA)
From the early morning, thousands of visitors came to visit the mausoleum.
Traffic police officers were deployed in the surrounding areas to ensure smooth traffic on Le Hong Phong, Chu Van An, Hung Vuong, Tran Phu, Ngoc Ha and Doi Can streets.
The mausoleum is located in the center of Ba Dinh Square, which is the place where President Ho read the Declaration of Independence on September 2, 1945, establishing the Democratic Republic of Vietnam.
From September 3 to November 1 this year, the mausoleum is closed for annual maintenance. It will re-open on November 2.