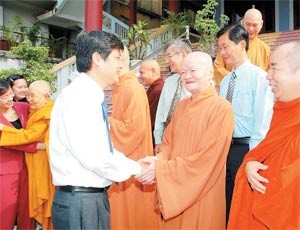 Mr. Nguyen Van Dua shakes hands with the clerics during the visit to the Vietnam Buddhist Sangha headquarters in HCM City
The Ho Chi Minh City delegation led by Party Committee Deputy Secretary Nguyen Van Dua on Friday emphasized the Vietnam Buddhist Sangha's great contributions to the nation during the war and in peacetime.
On a visit to congratulate the Sangha on its 25th anniversary (November 7, 1981 - 2006), Mr. Dua highlighted the voluntary merger of the then different Buddhist sects into the Vietnam Buddhist Sangha 25 years ago as evidence of solidarity among Vietnamese Buddhists, which had helped serve the national cause after the war.
He urged the clerics and followers to further unite in the new stage of development in order to strengthen their organization and stay alert for any schemes by hostile forces to abuse religious beliefs and sabotage national unity.
He concluded by saying that the all their efforts were important in achieving the national goal of moving out of the underdeveloped stage, bringing prosperity to the people and advancing towards a strong nation and a just, democratic and civilized society.
Superior Buddhist monk Thich Tu Nhon expressed his gratitude for the assistance and support of the government in the past, and promised to wholeheartedly contribute to the development of the city in the years ahead.