After joining the Durian Cooperative, farmers in Son Dinh Commune of Cho Lach District in the southern province of Ben Tre have increased productivity and revenues upto VND500-600 million per hectare, according to the Department of Agriculture and Rural Development.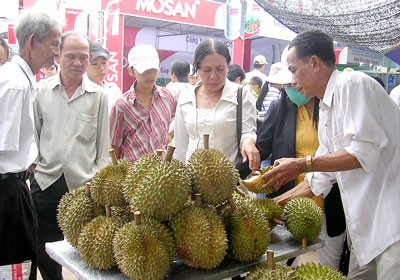 Durian farmers in Cho Lach District earn VND500-600 million per hectare
At the moment, the Durian Cooperative comprises of 37 members with cultivated area of 14 hectares. By strictly following proper growing procedures as well as successfully applying new technologies in growing durian, all products of the Durian Cooperative have now been granted the VietGAP (Good Agricultural Practice) certificate.
Compared to the average yield of 25 tons per hectare of other farms not in the cooperative, durians such as Ri-6 or thick flesh types grown by cooperative members can yield 30-40 tons per hectare. With price of VND35,000 per kilo(US$1.7), these farmers easily earn VND500-600 million per hectare (US$23,850-28,620).