In a report to deputies, the National Assembly Committee for Social Affairs has expressed concern over the current labor and employment problems.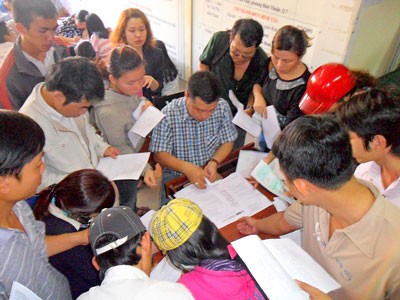 Unemployed people register to receive benefit ( File photo: SGGP)
As per the report, in 2012, the rate of jobs did not reach the expected target. Unemployment rate in urban areas was 3.25 percent last year while in the first quarter of 2013, more and more people are becoming unemployed compared to last year.

Noticeably, the proportion of freelancers also increased from 34.6 percent in 2010 to 35.8 percent in 2011 and 36.6 percent in 2012. The leap in unemployment rate showed more enterprises shut down last year.
 In 2012, economic growth reached only 5.03 percent against the expected level of 6 percent resulting in slight wage adjustment.

The first quarter of 2013 has seen economic growth of 4.89 percent, higher than in the same period last year. However, in first fourth months, around 19,600 enterprises stopped operations or shut down. This worsened the country's employment tally.

Consequently, there was an increase in the number of people participating in unemployment insurance from 7.9 million in 2011 to 8.3 million in 2012. The number of people enjoying unemployment insurance in 2010 was 145,000 and moved up to 410,000 and 461,000 in 2011 and 2012, respectively. Noticeably, only one percent of unemployed people received jobs training in last three years.