The Ho Chi Minh City Export Processing and Industrial Zone Authority (HEPZA) have announced free bus tickets for cash-strapped employees to return to their hometowns for the Tet Lunar New Year holiday in January.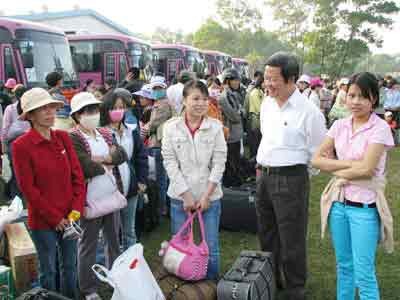 HCMC Labor Union Chairman Nguyen Huy Can (2nd, R) speaking with travelers at a ceremony to see off workers returning to their hometowns for Tet holidays (Photo: Nguoi Lao Dong)
Vuong Phuoc Thien, chairman of the Hepza labor union, said in a televised interview on "Dialog with City leaders" program on Saturday,   launched by 'The Voice of Ho Chi Minh City People' under the theme "Looking after the living conditions of workers", that the union plans to offer 6,000 gratis train tickets for cash-strapped employees to return to their hometowns during the coming Tet holiday season.
According to a survey of district labor unions and companies, many workers are facing the prospect of remaining back in HCMC for Lunar New Year, unable to afford the traditional journey home to be with loved ones because of the current economic recession.
Workers who have not celebrated Tet with their families for the last three years are eligible for free tickets. Hepza Labor Union will also give 1,500 gifts to workers who will be staying in the city and to unemployed laborers.
The center to support youth and workers in HCMC has asked charitable organizations to provide 1,000 free tickets for workers and 500 gifts for those deciding to stay in HCMC for the Tet Lunar New Year. The center will also give away 5,000 entrance tickets to amusement parks and tourist areas to workers.
The HCMC Woman's Association will in addition to giving away 1,200 gifts, will also coordinate with lodging house owners to organize wrapping traditional cakes such as chung cake (stuffed sticky rice cake) and a cooking competition.
Sai Gon Co-op will sell subsidized essential commodities such as rice, sticky rice, cooking oil and vegetables to workers at 150 mobile booths in industrial and export processing parks from January 8-18, 2012.
The Labor Union in HCMC is also encouraging companies to help their workers to be able to go to their hometowns for Tet, and have asked labor unions of companies, enterprises, lodgings and local communities to take better care of poor laborers during Tet. The union will organize a Tet festival celebration for 500 families of workers who will spend Tet in the city.
City authorities have also asked enterprises to deliver early bonus to workers, so they may prepare for the coming Tet holiday season.