Thousands of hectares of rice fields in the Mekong Delta provinces of Kien Giang and Hau Giang and Can Tho City lie submerged under surging floodwaters from persistent heavy rainfall over the last several days.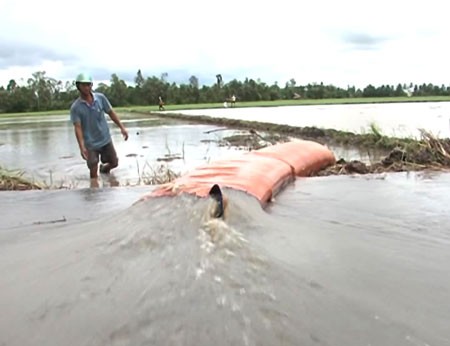 A farmer pumps floodwater from his newly seeded rice field in the Mekong Delta province of Hau Giang (Photo: SGGP)
According to the Hydro Meteorological Center in An Giang Province, flood levels have surged by 3-5cms a day, rising 2.75m on Hau River in Chau Doc Town and 3.17m on Tien River in Tan Chau Town.
Flood levels will continue to surge for the next few days due to continuous heavy rainfall and high tide.
The Department of Agriculture and Rural Development in Hau Giang Province said that 180 hectares of newly seeded autumn winter rice crop is now under floodwaters in Long My District.
Thousands of hectares of rice has also submerged in Kien Giang Province, with 6,000 hectares just recently seeded in danger of being completely destroyed in low lying places in U Minh Thuong District.
Local authorities are working with residents to pump floodwaters from rice fields to prevent and minimize damage.
Tens of thousands of hectares of autumn winter rice crop, which are ready for harvest in the Mekong, have also been flooded or flattened. This has reduced output and increased harvesting costs.
In related news, floodwaters continued to surge in Dong Xoai Town in the southern province of Binh Phuoc on Thursday, inundating hundreds of houses.
Nguyen Van Ha, a local resident, said that the floodwaters began to flow into his garden at 7.30am. Ten minutes later, the water surged up to window level of his house and some surrounding houses as well. 
People fled from their homes, leaving behind livestock and chicken that were swept away. Several households along Rat Spring in Tan Thien Ward have been isolated by the fast flowing current of water.
According to Saigon Giai Phong, on Thursday morning about 150 hectares in the area was submerged below 1.5m of floodwaters and the local traffic was completely at a stand still. By 11.30am of the same day, floodwaters continued to surge.
Earlier, long lasting heavy rainfall from September 13-16 flooded 221 houses, forcing dwellers to evacuate and move to safer grounds. Traffic remained paralyzed on some sections of roads that were submerged under 1.5m of floodwater.