The rainfall was measured at 129mm at Do Luong (Nghe An province); 87mm at Ha Tinh province; 71mm at Vinh (Nghe An) respectively. The provinces from Nghe An to Quang Ngai and water levels on rivers in these provinces were rising up.
Yesterday, the Department General for Natural Disaster Prevention & Control (the DGNDP) under Ministry of Agriculture & Rural Development held international conference on disaster risk reduction. Through the event, Vietnam could learn lessons from Japan in an effort to reduce damages caused by landslides, flash floods.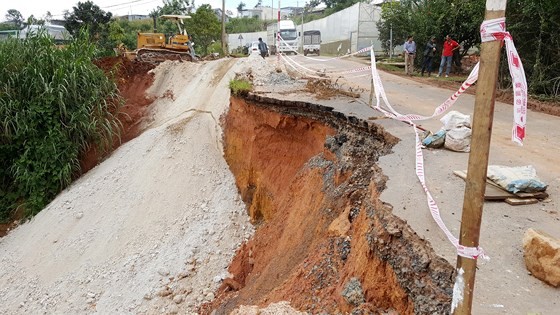 250 flash floods and landslides have occurred in Vietnam since 2000 to 2016
Since 2000 to 2016, Vietnam had suffered 250 flash floods and landslides killing and missing 779 people, injuring 426.
Mr. Tran Quang Hoai, general director of the DGNDP said the country needs to apply advanced science technology to reduce the damages from disaster; using the model of Sabo dyke to prevent stones, soils from the downstream during flash floods that Japan has ever applied. It is hoped able to solve flash floods and landslides.

Mr. Hirotada Matsuki, Head of the Japan for International Issues, Director of Disaster & Water Resources Management said Viet Nam and Japan's rainfall forecasting technologies have developed therefore the important thing is how to collect more databases about water levels in the upstream to have exactly weather forecast and minimize damages to be caused by flash floods or landslides.