Production units along the Tham Luong Canal in Ho Chi Minh City are continually polluting the environment of surrounding areas, creating hazardous health conditions for those living in proximity of the canal.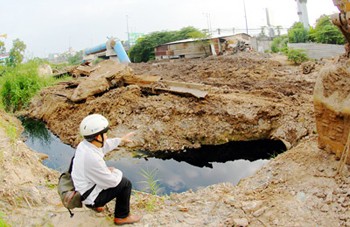 Wastewater flowing from a sluice gate into the Tham Luong Canal in District 12 (Photo: SGGP)
Households living along the Tham Luong Canal in Districts 12, Go Vap, Tan Binh and Binh Tan have been suffering the discomforts of   pollution for several years. Many petitions have been sent to local authorities but no action has ever been taken to resolve the issue.
 
Several production units are operating along the Tham Luong Canal, which runs parallel to Nguyen Van Qua Street in District 12. Many are cloth dying and coal briquette producing units, both of which create an immense amount of dust and noise in the neighborhood.
For instance, Viet Phat cloth dying unit is not only discharging exhaust fumes but causing noise pollution as well. The road nearby is being utilized to stack firewood, dye barrels and waste matter.
Nguyen Son Chinh residing in Dong Hung Thuan Ward in the district says that three dying units are operating round the clock near his house, belching fumes, dust and releasing wastewater directly into the Tham Luong Canal.
During wet weather, rain water combines with wastewater to spill into residential areas while on a clear day exhaust fumes take over.  Added to all this is the persistent noise pollution, Chinh said.
Luu Thi Xanh living near the Cay Liem Canal said that many businesses release wastewater into the sluice system which flows into the Tham Luong Canal.
Similar conditions also occur in Binh Hung Hoa A Ward of Binh Tan District. Drying and dying businesses mainly use firewood, which gives off black soot and smoke, forcing households in surrounding areas to close their doors.
People in Go Vap District have to bear with the foul stench emanating from the Tham Luong Canal, whose waters now exceed far beyond permissible pollution levels.
According to the Environment Protection Department in HCMC, the water source of the Tham Luong-Vam Thuat Canal is polluted with high concentrations of BOD, COD and coliform, exceeding permissible limits by more that 17 times.
Authorized organizations report that up to 90 percent of businesses along the Tham Luong Canal are breaking environmental protection regulations.  Several businesses have waste treatment systems, but use them perfunctorily only when inspectors show up.
Since 2009, the HCMC People's Committee has penalized nearly 30 businesses for polluting the environment. However, they continually repeat offences. Local residents have sent several petitions to the Ward authorities, but conditions remain unchanged.