The Ho Chi Minh City Department of Transport announced that it will replace 500 old diesel fuel buses with new environmentally- friendly models running on compressed natural gas (CNG) in the second quarter of this year.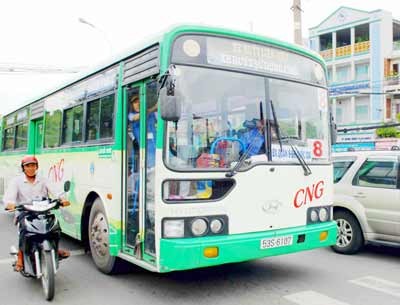 CNG buses are operating in HCMC
Mr. Le Hoang Minh, a deputy director of the city's transport department said: "With the target of building Ho Chi Minh City as a green, unpolluted and beautiful hub of Vietnam, the HCMC People's Committee has approved the Saigon Transportation Mechanical Corporation (SAMCO)'s plan to complete a manufacture project for 300 CNG buses. The project will contribute to reduce exhaust gas, limit environmental pollution and build green traffic environment for the modern civilized city".
In the first phase of the project, Saigon Transportation Mechanical Corporation will put 23 new CNG buses into operation with total cost of VND 63 billion for An Suong- Suoi Tien- National University of HCMC bus route to replace 23 old diesel fueled buses.
At present, Ho Chi Minh City has around 2, 700 buses running on diesel fuel causing extreme environmental pollution while only 137 new CNG buses have just been put into operation.