On occasion of the 67th anniversary of the August Revolution and National Day, the Ho Chi Minh City Party Secretary Le Thanh Hai honored artists with the Ho Chi Minh Award, the title of People's Artist and Meritorious Artist for 2012, at a get-together on the afternoon of September 1.
The gathering was an opportunity for city leaders to hear artists' opinions, thoughts and review their contributions in the construction and development of culture, literature and arts in the City.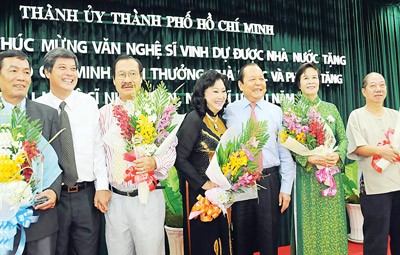 HCMC Party Secretary Le Thanh Hai ( 3rd, R) honors artists on National Day (Photo: SGGP)
The get-together was attended by Le Thanh Hai, Secretary of the Party Committee of HCMC; Le Hoang Quan, Chairman of the People's Committee; Nguyen Thi Thu Ha, Deputy Secretary of the City Party Committee; Nguyen Van Dua, Vice Secretary of the Party Committee of HCMC; Nguyen Thi Quyet Tam, chairwoman of the City Council; Duong Quan Ha, Chairman of the Vietnam Fatherland Front in HCMC; Than Thi Thu, head of City Propaganda and Education Commission; Huynh Vinh Ai, Deputy Minister of Culture, Sports and Tourism and other leaders of the City.
Also on September 1, President Truong Tan Sang presented the Ho Chi Minh and State awards on science and technology to 75 scientists working in the field of national defense and security.
The award-winning works have high scientific and practical value which contributes to the cause of building socialism and ensuring the country's independence, sovereignty and territorial integrity.
Speaking at the event, President Sang congratulated the winners and affirmed that the awards are the Party and State's recognition of the scientists' contributions.
He said that in the current stage, science and technology is the most important resource and a key impetus for fast and sustainable socio-economic development, thus improving the country's combined strength and competitiveness as well as its defense and security capabilities.
The Party and State consider scientific and technological development, together with education, a top national priority, said the President, adding that he hopes that scientists, both at home and abroad, will uphold their patriotism and creativity to contribute more to the country's national construction and defense.