The road traffic situation in Ho Chi Minh City is getting worse this year despite stricter punishments on traffic violations, statistics from the city government have revealed.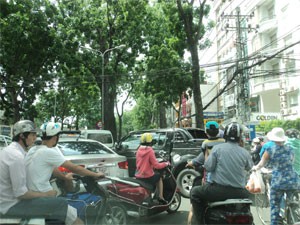 Heavy traffic on Ton Duc Thang Street in Ho Chi Minh City downtown. The nunber of HCMC road accidents has surge badly (Photo: Minh Tri)
Drinking and poor street quality have been blamed among causes for the fatal problem.
According to the city figures, the number of traffic accidents as well as that of the deaths and injuries involved have both increased year on year in all districts, except for Districts 4, 12, Thu Duc and Hoc Mon in the outskirts.
However, Districts 12 and Thu Duc are still two of the three that have the highest number of traffic accidents in the city, besides Binh Tan District.
The city has reported a total of 495 traffic accidents since the beginning of this year, which killed 421 people and left 262 others injured, statistics showed.
The figures were two more cases, eight more deaths and 71 more injured people compared to the same period last year.
Ngo Minh Chau, deputy director of the city police, said that officers of the agency have worked hard to reduce the number of traffic accidents at certain points during the year but the situation just got worse during festivals and holidays.
Most the accidents occurred between 7 p.m. and 2 a.m. the next morning, usually in the weekend, Chau said.
Figures from the city hospitals also revealed high fatality caused by road accidents.
Doctor Tran Minh Khiem from Cho Ray Hospital said that the hospital has admitted more than 12,800 emergency cases this year and more than 24 percent of them were traffic victims with 551 people killed.
Blood tests showed 181 of the traffic accident cases hospitalized were caused by high alcohol content.
Kham said some people were still badly drunk when admitted to the hospital.
A traffic police officer from District 7 also said that drinking has caused a sharp increase of traffic accidents in the city outskirts.
Meanwhile, around 150 of the cases at Cho Ray hospital this year were caused by underage driving and nearly 340 cases happened when the drivers did not wear a helmet.
City officials also point at poor quality of streets as another factor.
Nguyen Van Truong, vice chairman of Binh Chanh District People's Committee, said that 72 traffic accidents have occurred in the district this year, killing 71 people and injured 22 others.
Truong said most of the accidents occurred on streets that were under construction and gave little space to motorbikes, the most popular means of transport in the city.
In some cases, the number of accidents increased according to the operation of new streets, which are long, wide but deserted.
Since Rung Sac Street in Can Gio District was open to traffic early this year, the number of people killed by traffic accidents has jumped by 75 percent and the number of injured by 160 percent.
Meanwhile on National Highway 1A, many traffic accidents have been caused as big vehicles ran on the same lanes with motorbikes.
One of such cases happened in February. Two people on a motorbikes fell down on the street after a collision with a tricycle, only to have their legs crashed badly by a truck.