Firefighters from Ho Chi Minh City with ten specific vehicles yesterday arrived in the Mekong delta City of Can Tho at 10 pm to help their counterpart battle the fire which started in the morning on the top floor of a five-storey building in Tra Noc Industrial Zone Can Tho.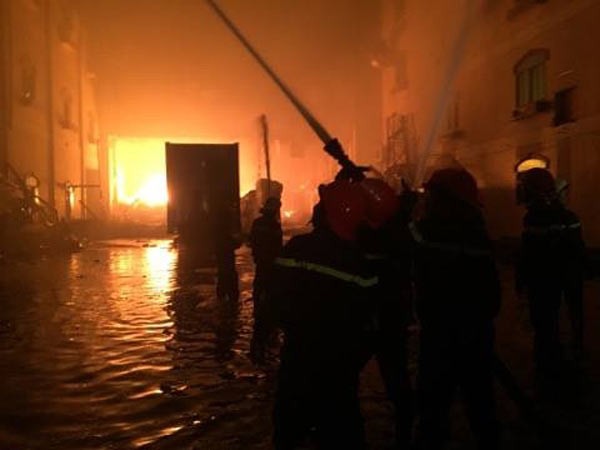 Fire fighters are trying their best to put out the fire (Photo: SGGP)
Firefighter forces worked all night to control the fire. 5 am on March 24, the wall of the garment firm Kwong Lung – Meko stores fabric in the fifth floor nearly was broken down.
Due to many walls of the company were fallen down before, neighboring locals and companies were evacuated to the Primary Tra Noc 4  to stay overnight.
Resident Nguyen Thi Ninh worried because she had never witnessed a such terrible fire; she and her children had to leave their houses to other safer shelter.
Deputy Chairman of Can Tho People's Committee Dao Anh Dung said that despite the province received the assistance from fire fighter forces of neighboring provinces and the Military No.9, HCMC but the fire is still uncontrollable. Firemen are still at the scene to battle the blaze in order to minimize the losses.
As per Sai Gon Giai Phong's article, yesterday a blaze started at the Kwong Lung – Meko's storage in the fifth floor. Nearly 200 firemen in the province arrived in the spot soon after being informed the incident and the province asked the assistance of firefighters from other provinces.
At 3 pm on the same day, the fire was considered to put out yet hours after a fire broke out, a five-storey building in the Tra Noc Industrial Zone was still covered by thick and black smoke.
The fire has ruined all materials worth US$6 million which the companies imported for production before.
Press brief on the fire
Fire fighte in Can Tho held a press brief on the fire on March 23 in Tra Noc Industrial Park. Colonel Tran Duc Dinh, Deputy Head of the province Fire Fighter said that the fire started at 9.13pm at the fifth floor of the garment firm Kwong Lung – Meko stores fabric in the fifth floor. 12 vehicles and 200 firemen were sent to the spot yet the storage was inflammable so it exploded violently along with thick smoke and poisonous gas. Thousands of frightened workers fled away.
Chairman of People's Committee Vo Thanh Thong requested all firemen and fire engines in districts and communes and from neighboring provinces of Hau Giang, Vinh Long and An Giang and the Military No.9 HCMC and the work of dousing the flames was still going on, the official said.
 
Fortunately, there has been no report of human loss, Deputy Chairman Dung said. Currently, it has not reported to property loss and the cause of the fire.