The rainfall was measured at 100 to 200mm. The possibility whirlwinds and the flooding due to high tides will occur.

The center said the typhoon after making landfall in the provinces of Ba Ria Vung Tau, HCMC, Ben Tre late afternoon weakened into a tropical low-pressure.

At 13pm, it centered at 10.3 degrees north latitude, 107.1 degrees east longitude on the coastal provinces of Binh Thuan to Ben Tre. The strongest wind speed near the center was level 6 and 7, at 40 to 60km per hour.
In the next 12 hours, tropical low-pressure sytem will move west west north at 5 to 10km per hour. It later on will turn into low-pressure zone.
On 1am November 26, it will center at 11.1 degrees north latitude, 105.9 degrees east longitude in the border areas of the east southern region and Cambodia. The strongest wind near the center will be below level 6 at 40km per hour.
Due to the impacts of tropical low-pressure system which formed from typhoon Usagi, the coastal provinces from the south part of Binh Thuan to Ben Tre will see strong winds at level 7 to 8, high waves at 2 to 4m.
While the provinces from Thua Thien Hue to Binh Thuan and the southern part of central highlands and southern region will suffer heavy rains. The rainfall is forecast to reach 100 to 200, several areas at 250mm.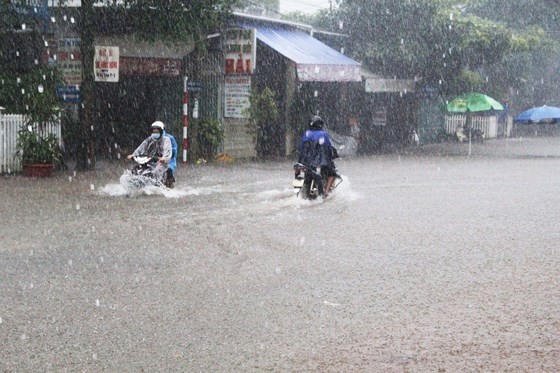 On November 25, HCMC experiences heavy rains
In another development, tonight untill November 27, due to a impact of cold spell combined to the easten wind, the provinces from Quang Tri to Khanh Hoa will also experience heavy rains with rainfall fom 80 to 200mm.
Box:

On November 25 to 28, on rivers from Quang Tri to Binh Thuan provinces and the east southern, central highlands region will appear the flooding.

The flooding will peak at warning level 2 and 3 on rivers from Quang Tri to Binh Thuan. Flash floods and landslides are predicted to occur in the mountainous areas and low-lying areas in mentioned above provinces.