Dong Nai River is the main water supply source for Ho Chi Minh City. However, the quick urbanization speed of provinces and cities in the river valley has posed a challenge for the city in ensuring its water resource security, according to Dr. Nguyen Van Nga from the HCMC Department of Natural Resources and Environment.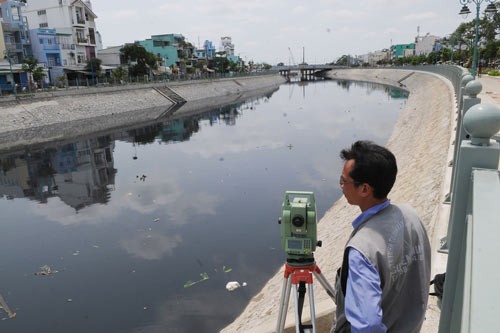 Increasing pollution has been found in many canals in HCMC (Photo: SGGP)
HCMC needs 2.7 million cubic meters of water for household and production activities a day. This number is forecast to increase to 3.55 million cubic meters by 2025.
The country's largest city covers 2,095 square kilometers with a population of nearly 10 million people. It also leads Vietnam in urbanization speed.
Population growth averaged 3.5 percent in 1999-2009, twice that in the previous decade. Population density was 3,399 people per square kilometers, up 41.4 percent over 1999. The city center saw it fivefold the suburb.
HCMC had only one industrial zone (IZ) in 1991, which has increased to 14 now. Besides, there are nearly 30 industry clusters and thousands of production establishments in residential areas.
The rapid urbanization speed has put the city in many issues including water source pollution.
In fact, water quality has reduced. The content of microorganism and oil has increased and exceeded permissible level at many positions. Dissolved oxygen content in water has been in reduction trend.
Organic pollution has risen in canal system especially in inner HCMC with very high microorganism ratio. Groundwater quality has worsened near industrial zones and highly populated areas.
On the other hand, water level on some aquifers has quickly dropped. The exploitation and use of water has been waste at many places sometimes with a high loss rate of over 30 percent.
Polluted water has badly affected residents' life especially in places without faucet water.
Local authorities have applied many measures to manage and exploit water sources in a sustainable way. For instance, they have perfected urban space and land use plans, and industry plans for environmentally friendly development, as well as implementing climate change adaptation programs.
The city has also carried out many projects and issued regulations together with policies for the purpose.
However mechanisms and policies should be improved for better results. Local authorities should build an overall plan on water source management and step up cooperation with nations such as Japan, the Netherlands, France and South Korea to study and exchange their experiences in this filed, noted Mr Nga.