Recent observations made by the environment monitoring stations in Ho Chi Minh City, show that smoke, dust and noise pollution is much above permissible levels.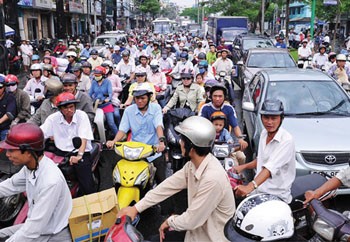 Exhaust fumes are harmful to people's health in HCMC (Photo: SGGP)
Observations were made at six stations in the city and all showed that smoke emissions were the highest pollutants showing an average concentration of soot to be around 0.36-0.63mg.
The main reason for this has been attributed to increased daily traffic on city roads. High concentration of soot in the air is the highest at An Suong Crossroad, where it exceeds permissible limits by two to five times.
Also, air pollution from high levels of lead content has not shown much improvement of late, though it showed slight reduction over 2010. Go Vap Crossroad also recorded one of the highest concentrations of lead in the air as compared to anywhere else in the city.
 
Nitrogen dioxide levels were also above permissible limits at around 0.15-0.26 mg, while carbon monoxide was the only norm which was at an acceptable level.
Noise pollution still remains unabated with 100 per cent of the monitoring results showing levels to be beyond tolerable limits. 
According to the Department of Natural Resources and Environment, the city's air pollution is mainly caused by industrial production. However, smoke and exhaust fumes are released through chimneys to higher atmospheric levels, as a result a city resident does not feel the immediate effect.
The worst affecting factor to people's health is vehicular traffic emissions.
According to environmental experts, though exhaust fumes from traffic is less than from industrial production, it is released at the lowest atmospheric level and usually in crowded residential areas. People living in high rise buildings can however escape the immediate effect for this form of emission.