Investor when thinking of putting money into Vietnam's Mekong Delta should give top priorities to fisheries, then agriculture and forestry, Agriculture Deputy Minister Luong Le Phuong told an investment promotion conference in Ho Chi Minh City Tuesday.
Mr. Phuong was addressing as a key speaker at the conference, held to introduce to both local and foreign investors potentials and advantages of HCM City and the 13 Mekong provinces.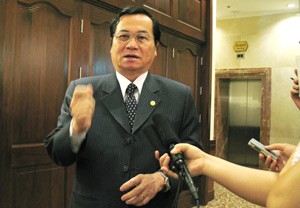 Agriculture Deputy Minister Luong Le Phuong talks to media about the Mekong Delta sectors calling for investment at the investment promotion conference (Photo: Tuong Thuy)
The provinces are Ca Mau, An Giang, , Long An, Ben Tre, Dong Thap, Soc Trang, Bac Lieu, Hau Giang, Tra Vinh, Can Tho City, Kien Giang, Tien Giang, and Vinh Long.
The investment promotion conference, which saw more than 500 delegates, is part of the Mekong Delta Economic Cooperation-Ca Mau 2011 Forum.
Deputy Minister Phuong said among fisheries, agriculture and forestry, the first one is the fastest profit-making area.
The sector includes catching fish and aquaculture, as well as processing aqua-products for export, he added.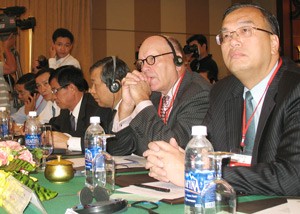 US Consul General in Hochiminh City, Mr. An Le (1st, R) and diplomatic representatives of other countries attend at the investment promotion conference (Photo: Tuong Thuy)
The delta has seen its total aquaculture acreage increase from 233,500 hectares in 2000 to 746,000 hectares last year, with output soaring from 444,000 tons in 2001 to 1.94 million tons in 2011, said Mr. Phuong.
According to him, Vietnam houses more than 500 aqua-product processing factories. Of them, 330 have been put into the European Union-accepted list, and more than 70% of the EU-accepted factories are located in the Mekong Delta.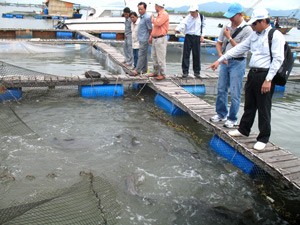 File photo shows a fish farm on a river in the Mekong Delta (Photo: Tuong Thuy)
Vietnam's Prime Minister Nguyen Tan Dung established in March 2010 the Mekong Delta Economic Cooperation, or MDEC, to further support the whole region's development. MDEC-Ca Mau 2011 is part of MDEC.
The delta region contributes over half of the country's rice output, 90 per cent of rice export, 65 per cent of fisheries production and 70 per cent of fruit, according to the MDEC Secretariat.
In introduction, the secretariat says Ho Chi Minh City and the Mekong Delta hold lots of advantages for agriculture (agriculture, fisheries and forestry) and marine economy. The two regions are endowed with a convenient network of transportation that includes roads, air routes and waterways.
HCMC and the 13 provinces cover nearly 4.3 million square km, making up 13% of Vietnam's area.
The delta has about 2.63 million hectares of farmland, including 1.9 million ha fore rice, almost 576,000 ha for fruits and over 746,000 ha for aquaculture, according to the secretariat.
During the full-day conference in HCMC, investment promotion officials from all the 13 delta provinces displayed their economic potentials and advantages at a sideline show.
The delta has a total of 151 industrial parks. Can Tho City and the provinces of Long An and Kien Giang have attracted more investment capital from HCMC than others, the secretariat says.
Long An, which borders HCMC, has attracted from the city 420 projects worth more than VND60 trillion (US$2.9 billion) since 2000.
Kien Giang has received 103 projects worth VND88 trillion ($4.2 billion) over the past five years.
Can Tho City, the Delta's hub, reports it has attracted 61 investment projects worth VND23 trillion (US$1.1 billion) over the past 10 years. Most projects are in tourism, infrastructure development and retailing.
The investment promotion conference called for capital into such fields as high-tech agriculture; processing and preservation of post-harvest agricultural products; trade; infrastructure; agricultural services; development of material zones; and other agricultural activities.
Speaking at a meeting held Monday to review economic development cooperation between HCMC and the Delta, city chairman Le Hoang Quan said the metropolitan government has actively promoted the Delta's business opportunities to foreign and local investors.
He said the city has worked with several sectors, including infrastructure development, environmental protection, healthcare, hydropower development and others.
After the investment conference, a workshop on policies for regional links will be held in Ca Mau in October, followed by a MDEC-Ca Mau CEO Conference also that month in the province.
October will also see a conference on promoting the delta's development and an International Economic Cooperation for the Mekong Delta, both in Ca Mau.

In addition, the province will host the Leaders Conference on MDEC-Ca Mau 2011 in the same month.