The ongoing sweltering weather have led young coffee beans fall down in some portions of the Central Highlands province of Gia Lai.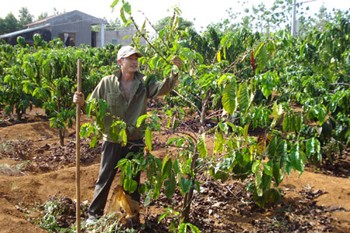 The scorching weather leads young coffee beans to drop in Gia Lai Province (Photo: Gia Lai Newspaper)
Coffee fields have also seen plants bearing few beans or feeble beans in Chu Se, Chu Pah, Ia Grai and Dak Doa districts.
In addition, insects like bugs and cicadas develop amid the phase when coffee plants begin bearing beans.
Local farmers and authorities have sprayed pesticides and have bolstered efforts to take care of and irrigate their fields, to minimize damage to this year's coffee crop.