Deputy Prime Minister Nguyen Xuan Phuc yesterday ( Feb 20 ) instructed authorities in Hanoi to continue their efforts to ensure better traffic safety and focus on increasing parking space to meet the demand of commuters.
Comrade Phuc told reporters at a working session with the municipal People's Committee, that he agreed with the current measures being taken by authorities, such as ban on parking along pavements of 262 streets, the adjusting of school and work timings and the division of streets into separate lanes.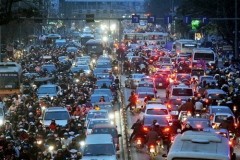 Traffic jam in Hanoi ( photo Dan)
However, he said there were still shortcomings in preventing traffic congestion and asked for more comprehensive and resolute directions from municipal authorities to reduce the number of deaths and injuries in traffic accidents by 20 per cent, general traffic accidents by 30 per cent and traffic "black" spots by 70 per cent.
In the first two months of this year, Hanoi reported a 36.6 per cent year-on-year decrease in traffic accidents, 36.3 per cent in the number of traffic deaths and 23.1 per cent in the number of people injured in traffic accidents.
The Deputy PM instructed municipal authorities to step up management of construction works and the relocation of schools, hospitals and headquarters of ministries and agencies to the suburbs, during the period 2012-15, as well as mobilise different sources for investing in traffic infrastructure.
It was further proposed that the Government adopt policies and mechanisms to gradually manage and limit the use of private vehicles while increasing traffic fees.