The Hanoi People's Committee has recently suspended construction of 11 out of 19 golf courses and officially reallocated the land for other projects.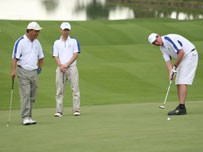 Long Thanh Golf Course in the southern province of Dong Nai.
According to the city's Department of Planning and Architecture, 11 golf course projects' investors were found developing works other than golf courses as pledged, on land designated solely for golf course development.
Under the new decision, the 11 investors will be required to contact the city's Department of Planning and Architecture for approval of their under-construction works before being allowed to continue.
Investors who fail to contact the department will be considered as forfeiting the right to continue with their projects.
Construction on the works will also not be allowed to resume until a new zoning and construction plan is approved for each project, said Nguyen Van Tu, deputy director of the Department of Planning and Architecture.
The move aims to separate real estate and other projects from sports complexes, which are subject to different land taxes, said the department.
In addition, local authorities hope the crackdown will save land and allow the projects to be managed more efficiently.
Of the total 6,362 hectares of land allotted for golf course projects in the capital, courses have been built on just 2,214 hectares, according to the Hanoi People's Committee.
The remainder of the land has been used to build hotels, trade centers, tourism sites and other facilities.
As golf course projects have been given generous amounts of land, usually over 200 hectares each with low land tax, many investors took advantage and instead built profitable enterprises like hospitality and real estate projects.
The list of 11 suspended golf course projects includes one in Hoa Lac Hi-tech park, one in Ba Vi, and one in Long Bien.