The effective implementation of policies on ethnic groups has helped reduce poverty and improved the living standards of ethnic people in Hanoi.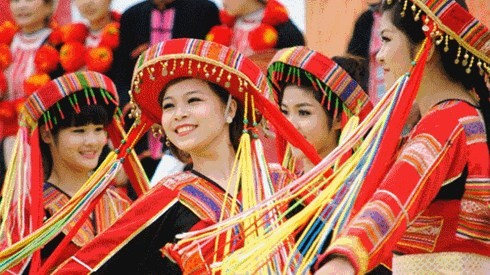 Illustrative image (Source: VNA)
The capital has more than 68,000 ethnic minorities people living across its 30 districts and towns. The Hanoi Party Committee issued resolution No. 06-NQ/TU on October 31, 2011, on socio-economic development in the city's mountainous ethnic minority-inhabited areas in the 2011-2015 period.
All levels of the city's authority have made efforts to implement ethnic policies and made progress.
At a conference assessing the execution of policies on ethnic groups during 2011- 2015, the action programme for policies until 2020 and the preliminary review of instruction No. 28/CT-TTg on raising the effectiveness of State management on ethnic works, data showed the economic growth rate in mountainous communes was relatively high, income per capita has improved and the poor household rate dropped to five percent in 2015.
All communes now have cement or asphat roads to their administrative areas, 62.5 percent of schools meet national standards, over 70 percent of households have access to sanitary water and all households are connected to the national grid.
These efforts have cut the development gap between mountainous and ethnic minority-inhabited areas and delta areas and consolidated ethnic minority groups' faith in the Party and State.
Speaking at the event, Vice Chairman of the Committee for Ethnic Affairs Dinh Que Hai said the city needs to review all policies to make proper investments, avoid spreading resources and boost the effectiveness of policies.
He urged the city to pay attention to training ethnic minority young people and lead the country in bringing all rural and mountainous communes out of poverty sustainably.
To execute ethnic policies well, Nguyen Van Suu, Vice Chairman of the Hanoi People's Committee, recommended leaders of departments, districts and towns focus on implementing plans and instructions of the Party and State on ethnic policies and effectively implement plan 138/KH-UBND of the Hanoi People's Committee on social-economic development in the mountainous ethnic minority-resided region in the 2016-2020 period.
The plan aims for an average economic growth of 10 percent, cutting the poor household rate to 1.8 percent by 2020, having 80 percent of schools at international standards by 2020 and no communes being in extreme difficulty.